Blues Under the Bridge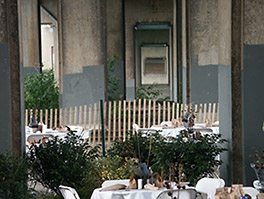 Enjoy a daring night under the Lincoln Way Viaduct. A dancing night. A dining night.
The Patrick Sweany Band. Back from Back Alley Blues. Back to make you smile. Tap your toes. Snap your fingers. Sing.
Bridjazz. A night with your friends. A night with new friends. Have you ever walked over the viaduct and looked at the lights of the town?
Old Carolina Barbeque and Catering Company. Hall of Fame People's Choice ribs champions. Served hot at your table.
Blues. Blues. Blue skies. Starry skies. Patrick Sweany blues. Brews. Blue shoes. Roots blues. Sax solo. Summer sizzle.
Trains. Table toys. Good times. Good guitar. Connector trail. Connect with friends. Bridjazz. Pizzazz!